Agathe Toman received us this summer for a little chat in her Capbreton based atelier in France, the occasion for us to grab the camera, a microphone and explore the world of a rather prolific yet quiet artist.

What's your path before becoming an illustrator?
I grew up in Paris and came here 7 years ago. I've always been drawing, for as long as I can remember. I studied applied arts then fashion in Paris and came in south-west France to work as an intern for surf brands. After that I worked 4 years and a half as a designer for DC Shoes and left about 2 years ago to start as an artist, so here I am.
The question you often get: why using black and only black?
Many people tell me black is only about darkness. On the contrary, I think black emphasizes light and white. One of my quotes is If you want the stars, you have to deal with the dark, it's a good one to think about… I see the world in black and white, I've always been drawing this way and I don't think it's going to change anytime soon. There's so much to explore, like textures. When I paint in black I'm not just applying flat black, there are so many different blacks in painting. Same thing with Bic pens, with some lightning you can get red reflects or some grey.
Which materials do you use in your works? Any favourite?
Lately I've been working on surfboards, directly on the foam with Posca pens. The support is quite difficult but it's very interesting, you can get a lot of details. Also, I started painting more than a year ago, very large paintings, I wanted to relax from the very detailed works I was making with Bic pens, it's a good way to unwind. Sometimes I could spend 60 to 70 hours on some drawings, it could get super tiring and hard on the eyes. So one day I just took the paint and started this new thing, getting Bic and paint on the same support. I actually don't have a favourite, each one comes at a different time of the day. Doing both allows me to express myself entirely today.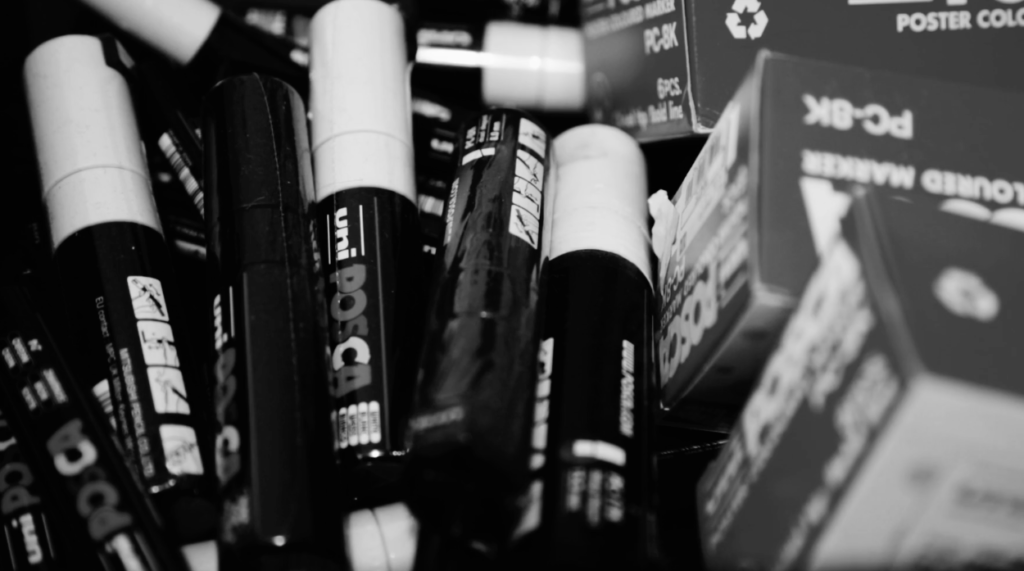 You work on various supports like skateboard decks and surfboards, why those?
The whole universe around skate, snowboard, and surf culture is super interesting, whether it's people in it, photography, art… This support can be exploited endlessly. I like to draw on skateboard decks because the effect on wood is very different and it's a beautiful object. Same thing for surfboards, on the last project I worked with my friend Vincent from Surfin Estate, I think this guy is a Leonardo Da Vinci in shaping, I see his shapes more as works of art than boards you will actually ride.
So is the ride culture your major source of inspiration?
Actually not, I get my main inspirations from my own past and people around me today, from the emotional states they get me into. I use my creations as a journal, I put a lot of emotions in it. Some people feel it sometimes, they don't specifically get the exact feeling I put in the drawing but they get an emotion. It means the world to me cause I think that's what art is supposed to do: pass emotions on. The world today lacks this. Everything goes so fast, people talk with emojis through screens, they like, they send hearts, they swipe left and right, they don't really talk anymore. I need to meet people face to face, to have durable interactions with people that have something to say. There's always someone who's going to make me feel something strong at a moment, I'll make a drawing out of this or even a whole exhibition.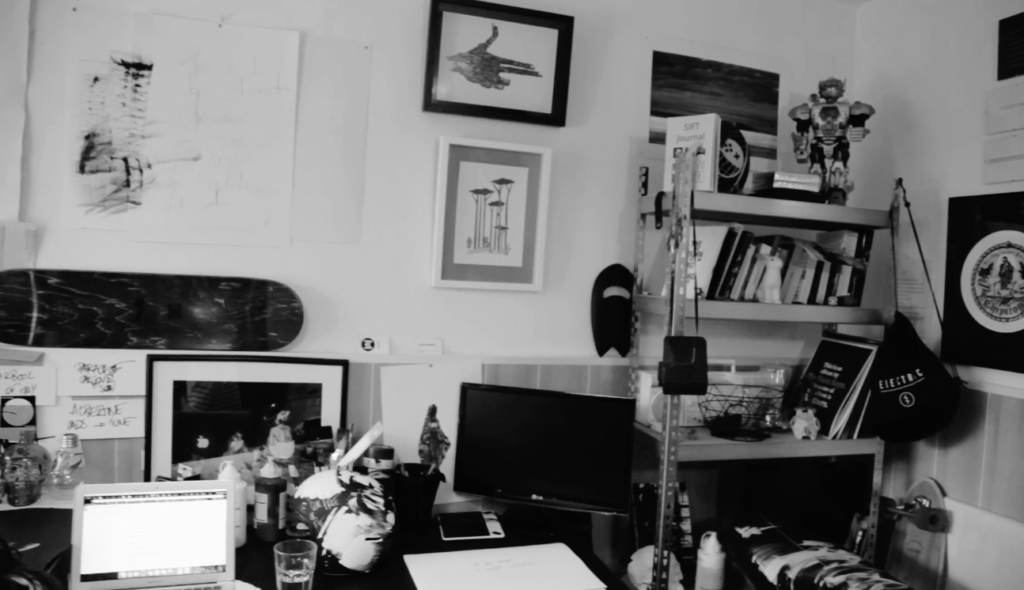 Did some artists make a difference in your way of working?
I'm mainly inspired by music. Music puts me into a parallel universe where anything can happen. I listen to Arcade Fire and Arctic Monkeys all the time, I'm actually obsessed with those two. The Strokes , The XX … Sometimes the lyrics are going to play a role in my creative process. I can't really explain the alchemy between the drawing I'm working on and the song of the moment. I give some clues in my works, for example, some lyrics can help me name a painting. And full disclosure, I listen to Rihanna sometimes. I also read a lot, always 2-3 books at the same time and I love poetry. At the moment it's a book from John Cooper Clarke, very inspiring English poet. The Arctic Monkeys actually adapted one of his texts in their last album. I've been writing more and more lately, trying to make my own texts, I don't have the pretension of being a poet though. I've been thinking of writing a book, something close to John Cooper Clarke's, it's a beautifully illustrated book. It would be a mix of words and images. It's been in my head for a while, I already started to put all this in a notebook. One day it's going to be like "boom": Today is the day I'm doing it.
So what are the 2-3 books of the moment?
At the risk of sounding intellectual, I've been reading an essay on arts by French philosopher and art historian Jacqueline Lichtenstein. Just finished Oscar Wilde's The Soul of Man, I love his works, I also have a book of quotes from him, you just open it and pick one, it's perfect. You have Jack Kerouac's Book of Haikus, I went to an exhibition about the Beat Generation in Paris where I bought this book, along with one about William Burroughs and Andy Warhol. Last book is Orgy Porgy by Scott Hobbs Bourne , an ex pro-skateboarder. I read an interview with him recently, he's super interesting. He was reacting to today's society, the lack of authenticity, the fact people don't talk and fight through computers… I'd love to meet him for a chat when I'm in Paris.

You studied in fashion, can we find influences from that time in your works?
Not at all, actually it's the contrary: my graduation project was consisting of a series of about 15 black and white illustrations printed on t-shirts. Portraits of Andy Warhol's muses Edie Sedgwick and Nico, Marianne Faithfull… I was 19 years old.
Which of your works are you the proudest of?
There are lots of things I've been proud of lately. The exhibition we made with Celine Hamelin last December in Biarritz for example. I drew on her photographs, I really liked to work as a team. I'm also happy with my last giant paintings, the surfboards we made with Vincent. Exposing in a gallery is also one big step, it's going to be my first gallery.
About that, what's next for you?
So there's this exhibition planned for April 2018 in Paris, it's a big challenge for me. Also, I started working with Vans this year, they are very supportive of my work. At the moment we are working on a big project to be released at the end of October. Then a new collab is coming with a snowboard brand, I can't say much more for the moment but I'm really excited about what's coming, the brand image fits my values which is super important to me. Finally, I'd like to make another show around here, in Hossegor if possible. I'm always on the lookout for bigger challenges, next step I'd like to exhibit abroad, why not in Australia with Savage Thrills!
Follow Agathe Toman on her website, Facebook and Instagram!
Follow Wesley Wilquin on his website, Facebook and Instagram.