How much do you know about the fine folks of RAAVE TAPES? Maybe a little, maybe a lot, maybe not much you say? Well, you're in luck as we got the chance to talk hugs, safe spaces, and rad owls with the Novocastrian noise trio! We even managed to cop some exclusive content, oh baby!
Your band description is one of the more memorable that I've seen. I quite enjoying hugging my friends, but why do you reckon boring friends need the most hugs? 
I think boring friends appreciate hugs the most. If you hug them enough, they become fun friends.
Yours and Owls is right around the corner, and it's rad to see you folks playing a slot. What're your thoughts on getting to jam there? 
Rad Bar was our first ever out of town show & you never forget your first. To be on the Rad stage at Y&O is a pretty special thing to us – we're all pretty sentimental people. The lineup is so heavily stacked but I'm honestly going to struggle to leave that stage. It'll just be 'catching up with your friends: the festival edition'. White Blanks, Totty, Archy Punker, Good Boy, Jacob, HOON…
Even though it's grown into such a large festival, Tills and the gang have managed to retain that homely 'the little guys are doing big things and we're all excited for them' feel.
The hook on k bye isn't a line that will be forgotten anytime soon. What went into writing this track as a whole? 
Firstly, thanks so much for the kind words you god damned sweetheart!
The first incarnation of that hook was actually a really low, monotone delivery washed out with a bunch of reverb. It originated as a dark, foreboding electro rock track with that really driving, synth-like guitar line. It sounded nice, but when we played it live the monotone verses were too bland in comparison to that massive riff. It was like people were waiting for the verse to end so they could dance. Then at a show, I improvised & screamed the second verse as high and loud as I could, combined that with some flamboyant dance moves & that hook was born.
~ fun fact ~ misheard lyric: I don't know what you said to me but it sounded like a Can of V
With so much music out there, who has your ears these days? 
Stella Donnelly & the new Fountaineer record have my heart at the moment. The new Mini Skirt song Dying Majority has my head – insanely potent & relatable lyrics for someone who comes from a Rugby League stronghold such as myself. Also Charlie XCX – Boys. Play it at my funeral. 
Unfortunately, couldn't make it to Newcastle this past weekend for "Shut Down The Argyle House", but it sure looked wild. How'd it go? 
It was such a damned lovely event. It was such a nice feeling to be able to bring a bunch of acts to town who wouldn't normally get to play to a crowd like that in Newcastle & watch them absolutely flourish. Plus watching the local crowd favorites thrive in one of the most notoriously dank nightclubs in town was a spectacle. The day just flowed so smoothly & spirits were high all 'round. I think everyone was just excited to be a part of something new like this. We had a potential issue towards the very end of our set when the crowd became a little too boisterous & the barrier began to give way. I saw photographers in the pit being knocked down by the steel barrier & people up the front looking pretty worried, so I had to intervene. I cut our last song of the night in the first verse, managed to get everybody to sit on the ground & embrace each other, while I pulled out a solo cover of Paul Kelly's "How To Make RAAVEY."  It was a wholesome ending to a wholesome day & everyone seemed to respond so positively to it, which is a real testament to the crowd. Shout outs to No-Fi Records & Ben Cooper of Love+Rent for helping make our dumb ideas become actual things that exist.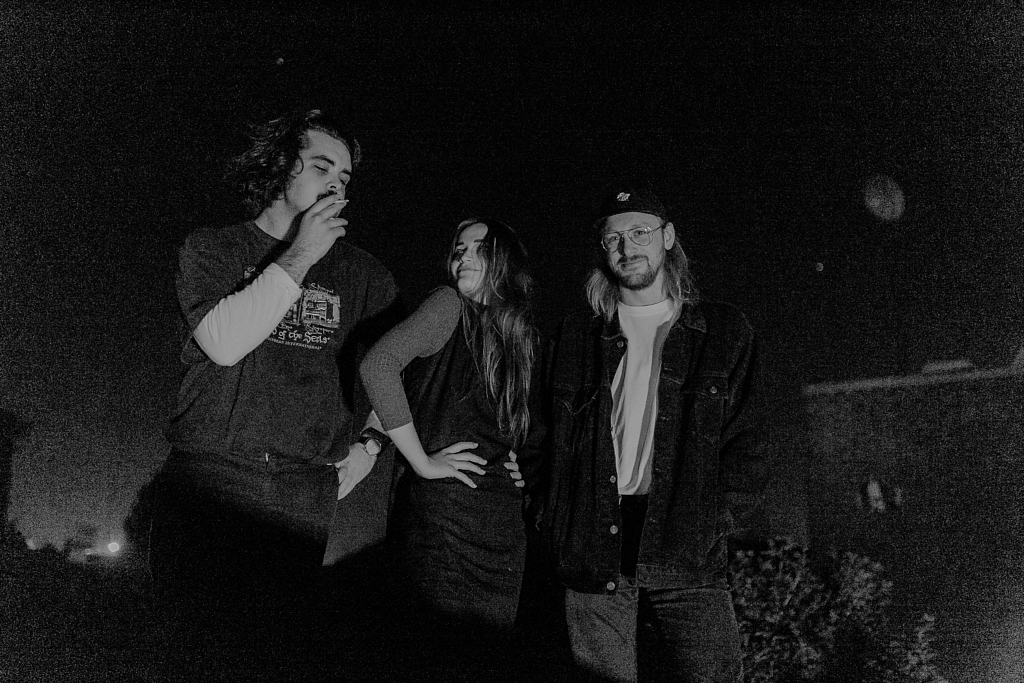 The "Your Choice" movement is currently sweeping across Australia. Why is this important in not only Australia but music scenes worldwide? 
The "Your Choice" movement is bloody great, isn't it? We cut our teeth hosting house parties & DIY warehouse shows, so the ethos behind "Your Choice" is something we've always tried to convey at our shows. We've had signs up in the past promoting safe spaces, but the "Your Choice" posters manage to sum it all up in an inoffensive, easy to digest, friendly manner. For our Argyle mini-fest, we met with management, security & artists prior to the event & outlined what we expected of them & I think that set the tone for what eventuated as a really nice day. While the onus is usually on the patron acting appropriately with this campaign, artists need to take responsibility as well. If you see behavior that you don't agree with at one of your shows, you have every right to stop the music and intervene. You've got the loudest voice in the room thanks to that microphone – set an example. 
The Newcastle music scene is sneaky good. Is the rest of Australia just behind the curve in hearing this?
Ahhhh it's bullshit good. There is such a massive hole in the market here in Newcastle because we don't have an alternative community radio station. Without Triple J support, it makes it that little bit harder for bands to take that leap to the next level. The pool of talent in Newcastle at the moment is just insane & I think we all feel pretty lucky to be a part of such a thriving, supportive, diverse scene. I think the cat is beginning to poke its head out of the bag & we're starting to see a few of our best-kept secrets begin to spread their wings. Keep an eye on Spewcastle. Things are happening!
What does the rest of 2017 look like for RAAVE TAPES, and where do you see your sound progressing?
We're about to drop a really dumb meme video clip for k bye. It's a basically a Saddle Club parody, because of the whole horse tranq/ketamine thing. Apart from that TOUR TOUR TOUR. We kick off at Grow Up! Festival in Maitland on September 16th & then we jet off around the whole damned country. I don't think we have many spare weekends between Grow Up and NYE.
In terms of our sound progression, we're definitely honing in on "our sound." Our first EP was all over the place, it was a band trying to find their voice. But our new stuff is definitely headed down a darker indie dance rock path… with a little bit of glitter sprinkled on top.
Want to give a quick shout out to No-Fi Records?
Oh, my little heart ~ of course I do! No-Fi is a Newcastle based DIY music & art collective that we're so damned lucky to call home. It started as a bunch of friends putting local DIY shows in backyards & lounge rooms and has evolved into a community of like-minded people who have the capacity to organise multi-stage festivals. It's been such a rewarding experience. I help run steer the ship Campbell & Krystyan & we're really excited about some of the events we've got coming up. The aforementioned Grow Up! Festival in Maitland is going to be huge. Also, No-Fi Fridays is a new monthly club night we're throwing which aims at bringing some ~hot produce~ to town, combine them with the best-emerging locals & kick on with the indie DJs in smokers are til really damned late. We've got WAAX, Dumb Punts, These New South Wales & heaps more already on board. Some of those aren't even announced so COP THAT EXCLUSIVE CONTENT.
ps "indie DJs" is just me with an Aux cord bumping Gwen Stefani.
No-Fi 'til I die <3
Looking for more RAAVE TAPES goodness? Check them out on Facebook, peep their Soundcloud, or better yet, catch them on tour and at a show near you! 
SAT 16 SEPTEMBER | GROW UP! FESTIVAL, MAITLAND
SAT 30 SEPTEMBER | YOURS AND OWLS FESTIVAL, WOLLONGONG
FRI 6 OCTOBER | THE FOUNDRY, BRISBANE
FRI 13 OCTOBER | JACK RABBIT SLIMS, PERTH
SAT 14 OCTOBER | FRANKIES PIZZA, SYDNEY
SAT 21 OCTOBER | BOTTOMS UP FESTIVAL, MUSWELLBROOK
WED 25 OCTOBER | RAD BAR, WOLLONGONG
THUR 26 OCTOBER | TRANSIT BAR, CANBERRA
FRI 27 OCTOBER | PENNY BLACK, MELBOURNE
SAT 4 NOVEMBER | THE EDINBURGH CASTLE, ADELAIDE