Like Inklings from Murakami's Hard-Boiled Wonderland, we had become subterranean creatures, in the depths below The Chippendale Hotel aka The Chippo, entranced by the epic music of Perth's fast rising Psychedelic Porn Crumpets. A few songs into the set and the entire audience had become a body of turbulent water at the base of an underground waterfall, churning at the foot of the stage. The band being otherworldly masters jamming out hard and fast, while the heathen hordes worshiped these mystic lords with seemingly unnatural movements, dancing… dancing … dancing…
Earlier in the evening, when first stepping into The Chippendale Hotel, now a fully renovated and very upbeat pub, I was convinced that I had arrived at the wrong place. The street level pub is completely at odds with the venue that lies below. Like the opposing sides of a double-headed coin, the underground brings the polished pub a kind of balance. The belly itself is what any half-decent venue should be, dark and dingy and plastered with atmosphere and attitude.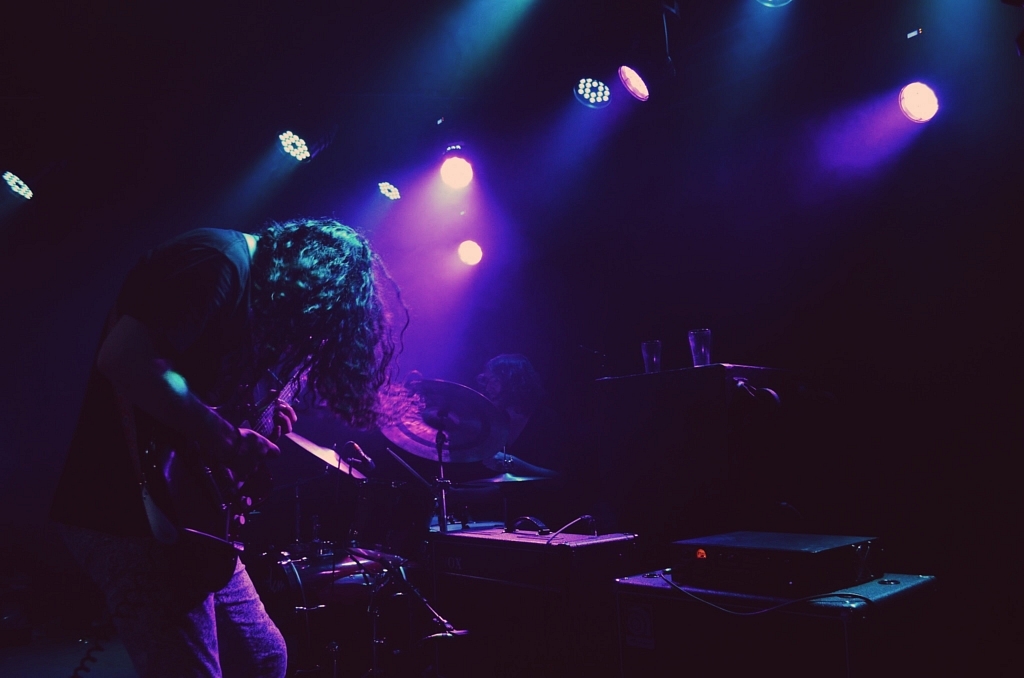 Down in the basement cave, I walk in on the Psychedelic Porn Crumpets running through their sound check. Everything was as huge and crisp as it sounds on the records, flawlessly nailing all the technical work that distinguishes their sound. After they have sorted everything with the sound tech, we move further into the depths to have a chat. Settling into the green room, a small dirty alcove behind the stage, the band takes a seat. "Nothing incriminating", somebody jokes, as I announce that we are recording' but before I can get through a single sentence, some kind of compressor pump labelled Glycol kicks in and as a result, both of the two Luke's, Jack and Danny, erupt into laughter and cheers.
"It's been going really good," Jack said as we spoke about their touring in support of the second album, High Visceral Part 2. "We went to Tasmania. We went everywhere around Australia. We started off in Adelaide, that was nuts. We didn't realise but it was Four-Twenty and apparently Adelaide just hell get into the spirit of the ganja. So everybody was just literally throwing joints around and it was just this mad party. That was a great way to kick it off, it was packed out. We play Sydney next. Melbourne. In Wollongong, we played Rad-Bar. That was insane. It was an eighty-capacity room and everyone was just nuts. Then, Byron, that was hell cool. But you don't feel cool enough to be in Byron."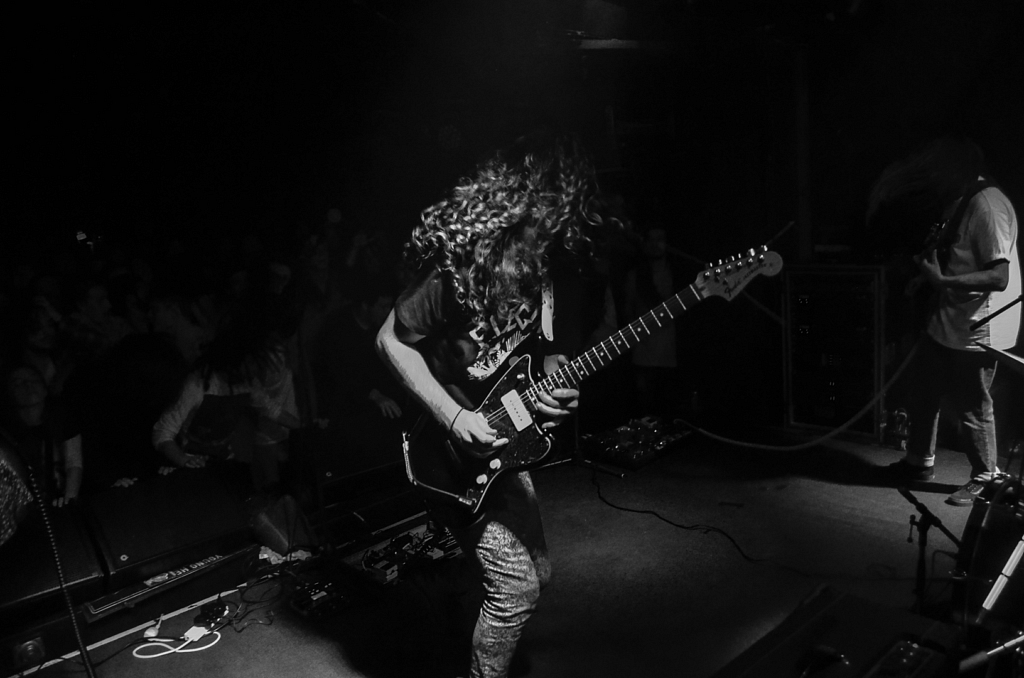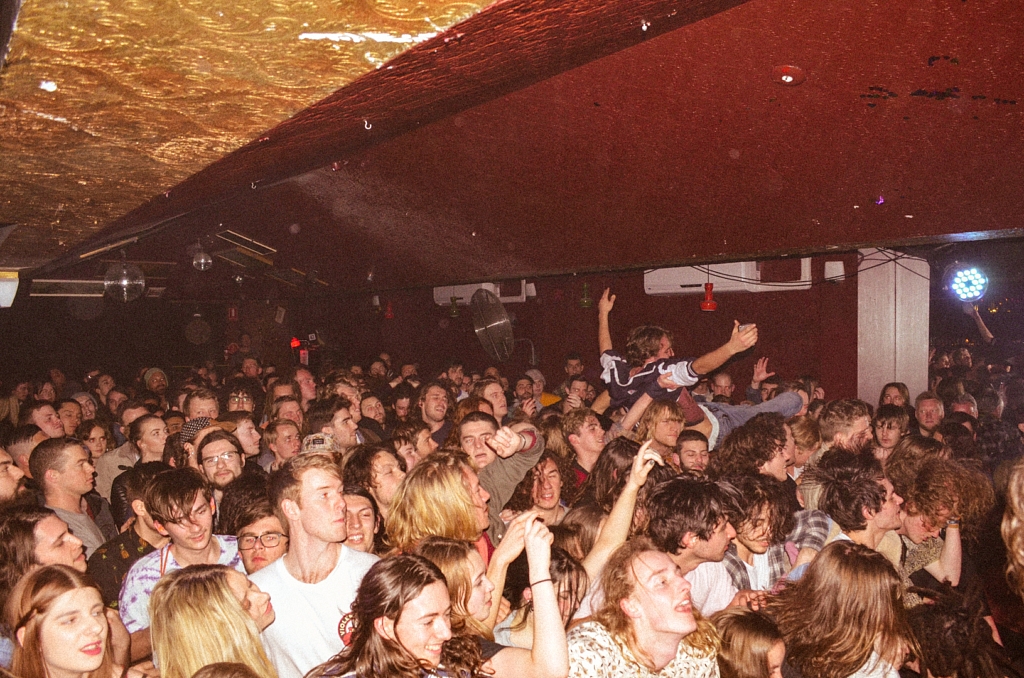 "No one's cool enough to be in Byron" Luke chips in. We all have a bit of a laugh as Jack returns to his train of thought,

"…it reminds me of what Nick (of Sunrose who supported PPC in Brisbane) said, 'I'm just this pasty white guy and there are all these beautiful people in the room.' You're just like this odd one out, on stage. It's just like the opposite way round. It's hell weird but what a beautiful place, it's nice."
"Tasmania was the best though!" They all agreed, commenting in unison about how much they enjoyed the island state, "We wanted to buy a house. That was on the cards for a while. It was just the nature. It's such a beautiful place,"
"Everything is really old there. I come from England so I kinda miss that." Jack said, "You go to Perth and all the old buildings got knocked down, and the national park is sort of just brown or there's like Cervantes (a small coastal fishing town north of Perth) and you've got desert until you reach the Northern Territory but it is probably a three or four hour drive until you get some trees. So over there (Tasmania), just everything's green, there is a gorge in the middle of Launceston, it's beautiful…" Before any of the band-members could finish off what was being said: another pump, this one labelled Keg-Room roars into action and begins to drown out the conversation.
Later, after the interview when the band took the stage, I begin to notice the crowd; an extreme mix of people that can't simply be boxed, pigeonholed or stereotyped. The room was filled with a vibrant audience, populated with an array of vastly different fans. Looking about, it was hard not to take in the character and vibe of the setting: People swaying, people moshing, people being both aggressive and friendly at the same time and others doings all kinds of strange and exotic movements, all dancing like a sea of insects preparing to mate. The music was relentless in holding the audience captivated, not letting a soul lose focus for even the slightest of moments. The stage was a vortex of sound and colour drawing everything together; I could see more than one couple making out in between the chaos. There were people with their shirts off and many more singing the words to these songs and very, very few standing still, if any.
"I think the rooms have stayed the same, clearly, but it's been picking up heaps." Jack said of the latest tour, "The first tour we did to like ten people, then it was like twenty people and now it's sold out…" which is still a complete understatement considering this is a band going from strength to strength. Having released their first album just over a year ago, The Crumpets have started their own record label and literally built (yes! Bricks and mortar 'built') the headquarters, which contains a full recording studio. If you take a quick peek at the What Reality? Records website, you'll basically see everything sold out.
"The tour went really well. It's been amazing. We got a lot of love from the King Gizz fan page. It's been hell good to us. Social media in general, like Spotify, has been hell good. That' the internet, being able to share music… it's cool. Actually, we met with Eric (Eric Moore of King Gizzard and the Lizard Wizard) in Adelaide on Wednesday. His work is inspiring. It got us to do What reality? looking at Flightless (Flightless records) and how King Gizz sort of modeled their whole: bringing out albums. I hell like how they are doing one a year, so when we first started, we were like we'll just keep doing one a year. That way you can go on tour, you can work on new material, it saves you a lot of time to be able to make something and rather than release it quite quickly, you can save it for a couple of years down the track."
"I've always wanted to do a double album like Smashing Pumpkins 'Mellon Collie and the Infinite Sadness'", comments Danny as we reflect on the separate parts that make up the two albums of the High Visceral catalogue.
"Luckily we didn't listen to him," jokes Jack, "Save the material! Nar, I think if we did do it for the first album, it would be a bit wanky. Like 'Hey, we're the Porn Crumpets, here's a double album!' Coz then you've gotta come out with like ten albums straight away. But we didn't want to do an EP. We were talking about that today, about the whole EP thing. It (an EP) feels like an unfinished product. Like its good but it's almost like 'this is what we sound like now but we are going to sound different later' rather than if you bring an album out straight away, it's like 'This is us! This is what we sound like. Here's a bunch of songs and we're going to make more like it (these songs)."
"We try to theme them (the songs), like have a pattern, with more melody focused in certain aspects of the song writing and in other bits we are like 'alright, let's make this one weird'. Like Gurzle for instance, when we were writing that we spent ages working on the middle of the sections, to try and have some sort of timing that didn't seem like it was weird. But when you play it, it's a bit of a brain fuck to learn. You're still on a beat that you can head bang to, so we were trying to keep that in mind when writing, it's got to be danceable," said Jack, "you've got to be able to have fun while listening to it, know where the tempo is and not sway off too much off it. (If not, it) Kind of looses that flow and all of a sudden you find yourself in this weird place. But, I kind of like that about the first and the second album. You can put it on from the beginning and then seven songs later or even five songs, you're in a completely different world of music. And you like 'I don't even know how I got here' and you have to listen back and go, 'That's right, it went from here to here to here…' rather than having a song, then a stop, then a song, then a stop, that is how we wanted to keep part one and part two so it was a flowing album."
Sliding deeper into the countercurrents, we spoke briefly on art before the compressors overcame everything, "Zouassi! That's Zouassi man, Zouassi is an American artist. Our old manager found him on Instagram, or he hit us up? And, he had a bunch of artwork and it was just beautiful. Again, social media aspect of how everyone can collab way easier these days. We paid like $100 for the first one and we got a print of it as well. We were like 'can we use this for the album cover' and he was like 'yeah dude, take it.' So we were like 'oh, perfect!'. Obviously, he gets a lot of following on Instagram, and we are like 'hey, we made it into an album' and he loves it because it's obviously his work being showcased. It fits it (the albums) perfectly."
and finally it is also possibly a Zouassi artwork that best describes the Psychedelic Porn Crumpets live set, crazy and beautiful and full of energy, an indescribable entity and one of the best shows I've seen in a long while.