As venues seem to be on a constant rotation of opening and closing, for various reasons, all over Sydney throughout the last few years, it is good to know where and when the next cool band will be hitting the stage. To take the leg work out of it a bit, we have rounded up five Sydney acts that are dropping dope new tunes, playing sick shows and all round being rad musicians that are filling the venues and keeping the lights on.
1. Raave Tapes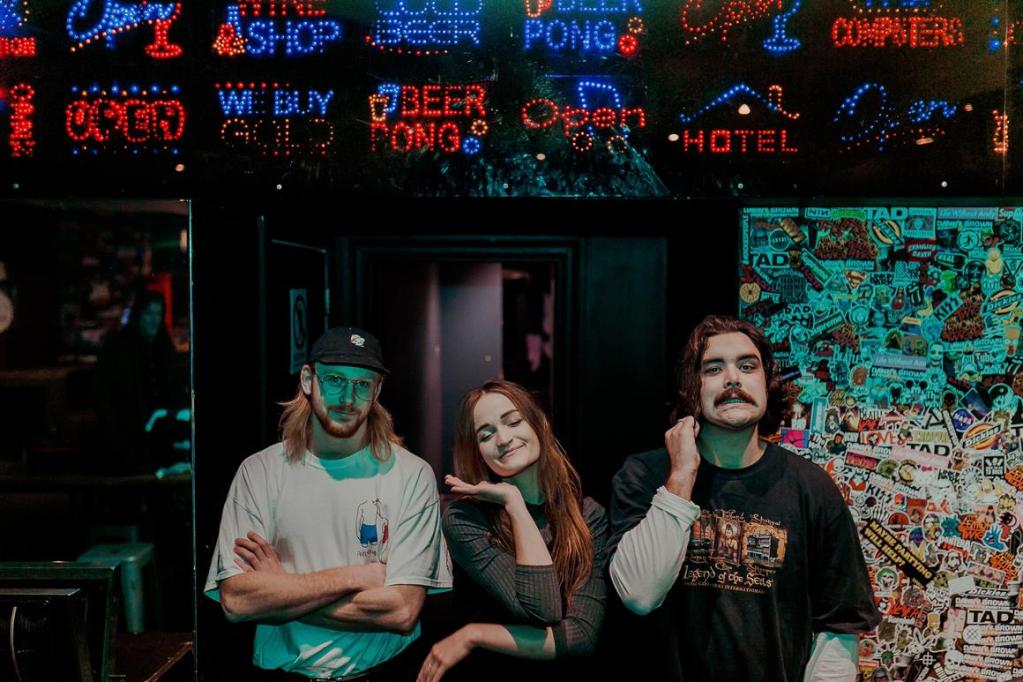 Not to be confused with Mogwai's latest release, Raave Tapes are pub punk colliding head first into some kind of party electro that pounces on you like a slippery jungle cat on heat and also possibly on trips. This epic three piece hails from the steel city, Newcastle, having been together for a bit over three years; already boast a huge following on home turf. Raave Tapes maintain waves of great reviews, a mile of killer music and having played a pile of festivals, This That Fest, Triple J's Mountain Sounds Fest etc, it is no surprise that they will be taking the stage at this year's Yours and Owls Fest in Wollongong September 30th – October 1st.
2. Mere Women

Once again, Mere Women have nailed it with the release of their third full length, Big skies, since forming about seven years ago. Filled with the punchy abrasive post-pop that they have become renown for, Big Skies is an immersive experience. Having played up and down and all around, over the ditch for a spot on stage at New Zealand's Camp A Lo Hum and generally everywhere in-between, Mere Women are both a powerful live act that has honed their performance to a razor's edge and a band that create absolutely gnarly songs. Catch them at Against the Grain Fest August 25th, Lansdowne Hotel September 8th or Weekender Fest September 15th.
3. Prysm
Taking a familiar indie-electronica as the foundation, Prysm is keeping things fresh by infusing bright and unexpected detail, reshaping and revitalizing an entire genre. Formed in Northern NSW, the duo, have only been working together for a few short months and are already creating killer tracks. The latest of which, I don't feel it, has already grabbed a heap of air time on various radio stations and with plenty of positive feedback. If you didn't catch this freshman bands last gig, at the Lismore Unibar, don't worry, it's pretty much a given that they will be announcing more and more shows in the next few months with music this tasty.
4. PVT (AKA Pivot)

Fresh off the back of their recent European tour, PVT are already playing shows back on home soil. Having not long ago released the latest album, New Spirit, which is the band's fifth full-length album since 2005 and eighth release to date, it's astonishing how much the music has grown and progressed over the years. Shifting on itself to remain new and fresh, its PVT's sound, like so many great artists, being a hard one to pin-down that has allowed them the ability to play crazy shows like Concrete and Grass Fest in Shanghai, China and IBoat in Bordeaux, France. You can catch them at one of the upcoming shows, Lansdowne Hotel September 15th, Northcote Social Club September 16th or Babushka October 5th.
5. Mookhi

From being simultaneously super excited and stupidly nervous about the EP launch back in Feb this year, 22-year-old Mookhi, has gone on to do some pretty cool things! We are talking main support for Bishop Briggs here in Sydney and down in Melbourne, Splendour in the Grass, the single Foul Play being picked up to feature in a Rip Curl promo, and most recently Moohki has graced the pages of Rolling Stone Magazine. If that's not enough, Moohki is also main support for the upcoming Luke Million tour and about a zillion other little shows in-between. That's a seriously epic first six months… need I say more.