Dj Shadow is synonymous with the golden age of nineties hip-hop his first full-length release Endtroducing garnered massive acclaim for its genre-bending sample work that makes up the majority of the album. For more than twenty years fans the world over have been captivated by Shadows music precision when cultivating his song structures and it shows in his longevity as a recording artist. As time preludes, genres evolve, people's perception of music changes and it rolls on and on. Many artists get lost in this transitional phase and people talk about the good old days when an artist released a track or an album that blew minds. Dj Shadow is definitely an artist that not only stood the test of time he defined and cut his own path to his latest release The Mountain Will Fall which in contrast to Endtrocuning is predominantly his own compositions.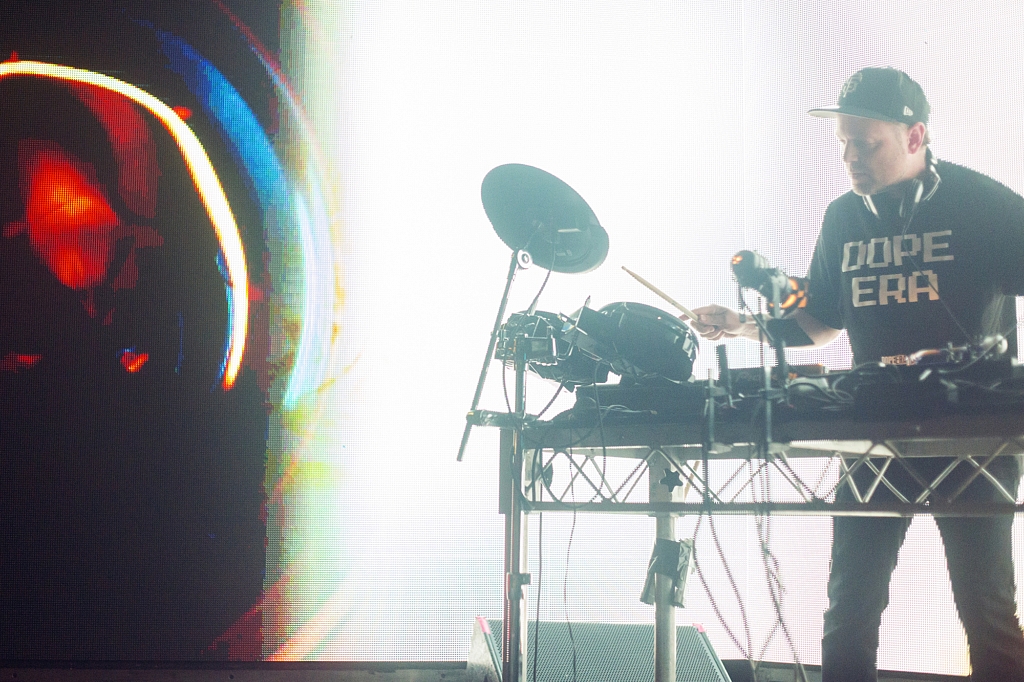 Finally, it was Australia's chance to enjoy Shadow's musical offering. After hearing reports that the Perth show was down on numbers a few thoughts had rolled through the old mind is he past his prime? Do people not care for Dj Shadow anymore? What the fuck! He has been a music idol since a child. One thing that needs to be noted that I forgot to mention this is Melbourne the music home of Australia. When people have a genuine love for an artist they will go out any night of the week to see them live.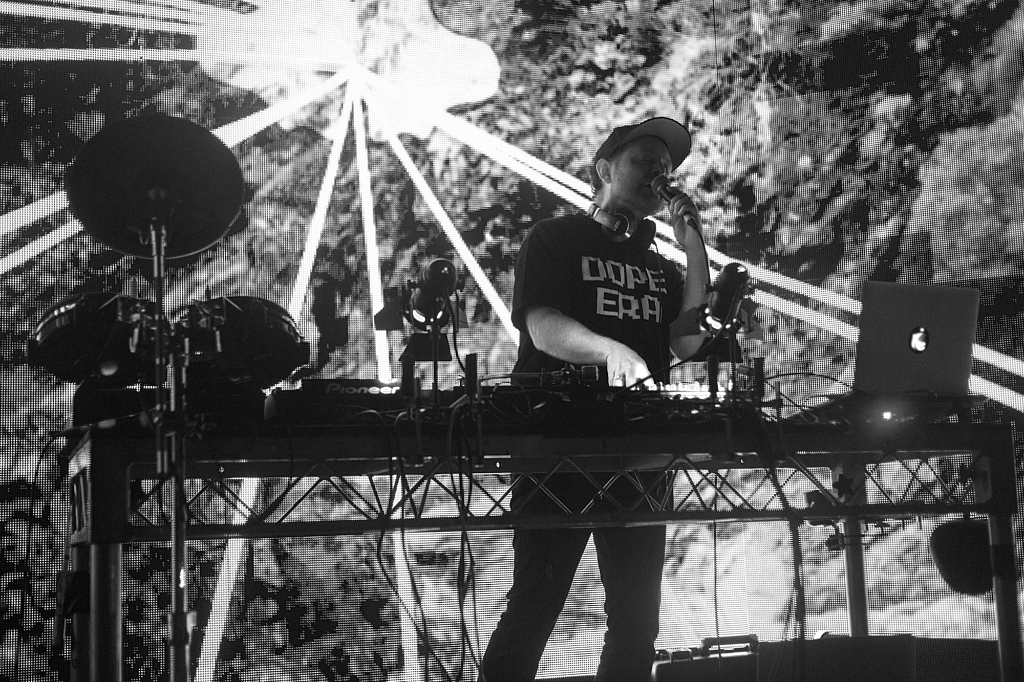 Anyone who has ever been to 170 Russell over the years will tell you it's a quality venue for the sound and being able to view the stage. The night started out slow, everyone was standing around having a drink and clearly waiting in anticipation. Then it was time Dj Shadow strolls out to one massive reception by now the venue is full from the nose bleed to the back bar. People from three different generations had shown up to experience a musical journey. This is when you know that an artist is still relevant.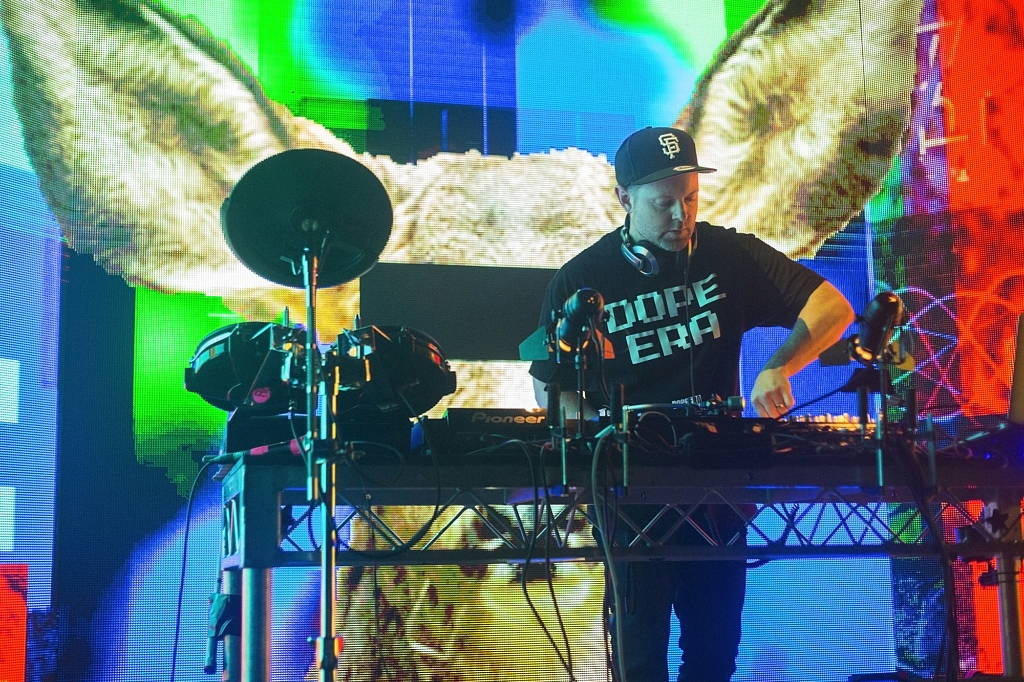 The venue is dark with only a spotlight on the stage and Systematic banging out the speakers. The audience is greeted by Shadow who is clearly sincere in his exchange with the crowd. Now it's time for the music and everyone is eager for it to kick off. Rolling through the first track it's a slow build up but you got a good sense of what's to come. The visuals are fast becoming a massive component for most Djs set and Dj Shadows visuals are incredibly well crafted to suit his music. Around ten minutes into the set, it was time to get dirty with mind bending bass and the crowd was loving every bit of it. Not one to just spin records Dj Shadow incorporates different elements to create a live show and you could see he is invested in giving his fans a show to remember.
As the set rolls on people are becoming more consumed by the music it truly does have a kind of hypnotic feel to it. The ups and the downs everyone is onboard with this and loving every second of it. Dj Shadow stops the music to chat with the crowd before dropping Midnight In A Perfect World (Hudson Mohawke Mix) that's when it all hit another level. If you weren't up and around dancing before you definitely were now.
When it was time to bring it back Shadow dropped classic Six Days but instead of bringing the vibe to a stand still with the original he decided to keep the crowd going with the Machinedrum Remix and over the music you could hear the echo of everyone singing along. That is the experience that lets you know that you're apart of something special.
As the set came to a close Dj Shadow had one last exchange (so we thought) with the crowd talking about how humbled he was to be able to travel to Australia and play his music to such a receptive crowd, he thanked everyone and exited the stage. This is when the place erupted to the highest point of the night it was insane how loud and vocal everyone was demanding more. Not one person was prepared to leave until he came back onstage! Upon return Shadow cited that this show was one of his favourites of the whole tour and thanked Melbourne for turning it on. We were lucky enough to hear a new track he has been working on Corridors then out of nowhere comes Caterina Valente a sample from Old Man River which we know is in Nobody Speak featuring Run The Jewels now 170 Russell was about to explode. Not to let the crowd free into the night in a frenzied state Dj Shadow brought it back with the last track of classic nineties infused hip hop and everyone one was happy. Asking a few different people on the way out what they thought of the show. Every person was blown away and stoked to see such a performance.

Photography by Valentin Zhmodikov follow on Facebook and Instagram.