Melbourne had a fiery introduction to last weekend with the much awaited and sound and the greatly loved line up at Knee Deep in Melbourne tour headlined by none other than the monstrously popular British house DJ and producer Hot Since 82. It was held at The Paddock at Federation square which came alive with the groovy house vibes that amassed a sizable crowd which was a testament to the event living up to its hype.

First up to the decks was none-other than local hero, loved by many from the Melbourne club scene, Boogs. Laying it down in style boogsy initiated the climactic build up of the day with a perfect set which reached out to the happy dancers that flocked in early to dance to the tunes of the local favourite.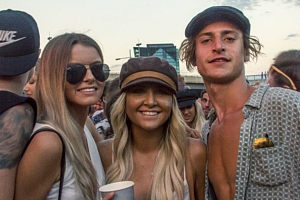 Next up was the Knee Deep records protege, representing Get physical music ,Moon Harbour Recordings and various renowned imprints Emanuel Satie who made his intentions clear delivering a stunning a real firecracker of a set which featured one of his brand new releases All the time Synth driven and percussive with what appears to be the fragment of a voice sample it slowed down the dance floor just to pick it back up with a lingering build up which met a percussive end leaving the happy Melbournians dancing their little hearts outs.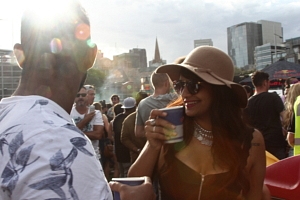 It was the Newcastle knight Cristoph at the helm next. know for his energy and ruthlessness in lining up pure flaming hits the house crusader with multiple stints in the promise land (Ibiza of course) laid down burning tracks such as I touch my self and projection drawing on the Tool room styled influences with resulted arguably in a tech house set which incorporated a much loved old school vibe.
Soon it was none other than German turntablist turned dance maestro Butch who stepped up to the deck whilst nightfall loomed. He graced the occasion with a (uniquely his own) set that had onlookers from beyond the confines of the venue peering in to see what sorcery was going down. Dispensing a unique blend that found harmony between percussive and suggestive melodic elements Butch added to the festive atmosphere of the party like only he could.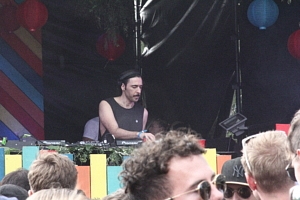 Following close behind was none other than the highlight himself Hot Since 82 greeting the stage whilst night trickled gently into the paddock sky. It was here Melbourne was reminded first hand where the British house masters legendary reputation comes from. Dropping everything from fan favourite tracks to paying homage to the classics. Henceforth the crowd was dazzled track after track when the ride just didn't appear to slow down.
A set filled with movement and class found a high point when Domino by Oxia found its way into the mix. A crowd favourite with a hypnotic yet dance dominant undertone it created a tranquil atmosphere, quite literally leaving the dance floor in each others embrace. Well organised and the thought of this leg of the of the Knee deep tour which touched Melbourne was undoubtedly a success. one that incorporated a lively and lovable crew from the security to the bartenders who were nothing short of encouraging. However, one which would not be complete without an honourable mention of the brains that were mashed together to make this a reality. Knee Deep in Melbourne was hosted by Hardware Presents, Pitch Control and Thick as Thieves in collaboration with Hot Since 82 and Knee deep in sound